New Products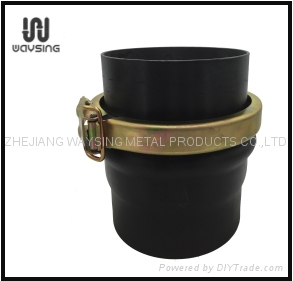 1. It is consisted by ring lock female, male, clamp and O rings.
2. Surface Phosphating black process.
3. The pressure of it is over 125 PSI
4. Easy plug-in cooperation and high connection stability. When it is set, it is difficult to separate it.
Available size: 4" 5" 6" 8"
Aluminum Drag Hose Coupling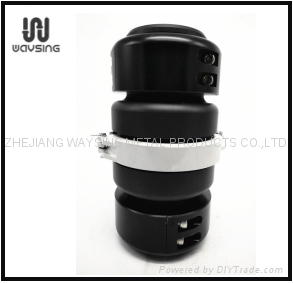 Safe and reliable in drag and pressure applications:
1. High quality coupling with smooth anodised finsih
2. Interchangeable sizes via universal size internal sleeve
3. Part pipe clamp
4. Easy split function through clamp ring
5. Mender sets
Available size: 4" 4.5" 5" 5.5" 6" 7" 8" 10"
Concrete Pumping Hose Fitting
Available size: 2" 3" 4" 5"
Bauer irrigation coupling KC type
Heavy Duty Steel Bauer KC Coupling for agricultural, irrigation, cleaning
Advantages as below:
1. Good abrasion resistance. Fair corrosion and chemical resistance. Lightweight and economical.
2. It is consisted by 4 parts, male ball, female Socket, O ring and lever ring.
3. Bauer couplings are more easily deployed in the field than cam and groove couplings or bolted flanges.
Available Size: 2" 3" 4" 5" 6" 8"
High Pressure Hose Coupling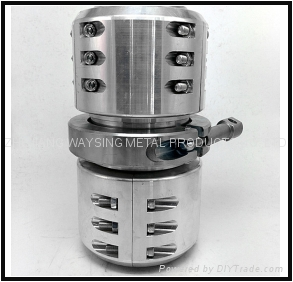 1. This coupling is consisted by female, male, shank clamp segment and ring clamp four parts.
Avaiable size: 4" 6"
Aluminum Grooved hose Nipple with reattachable Clamp
Aluminium Grooved Hose Nipple with reattachable Clamp solution as below:
1. 2pcs Aluminium Grooved Hose Nipple Made by Forging
2. 6pcs segment Clamp made by Forging
3. The two hose nipples is connected together by victualic Clamp
4. The burst pressure is more than 600PSI
Available size: 8" 10" 12"
Large diamension ---- storz coupling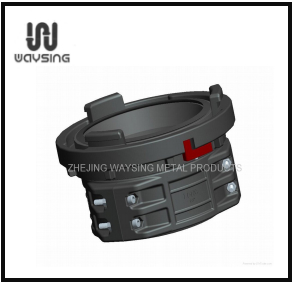 Large dimension Hose Coupling --Storz Coupling solution
1. Storz Coupling hose shank,head,segment clamp all is made by forging
2. The burst pressure is more than 600psi
Available size: 10" 12"
Brass Expansion Fire Coupling Rocker Type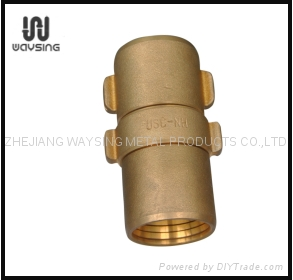 1. We have the FM certification of 1.5" and 2.5" fire hose coupling
2. This male & female coupling set is 2-1/2" NST/NH (National Standard Thread) Double Jacket Bowl is new with fem coupling thread gasket and two bowl gaskets.
3.Made of heavy forging brass these are often used on marine or industrial fire hose applications.
4. The set requires two expansion rings and expansion ring application tool .
Aluminum expansion fire coupling FM certification